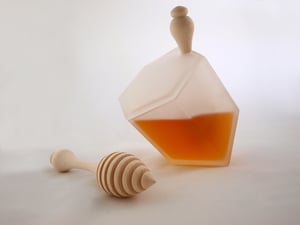 $

99.00
Made by a beekeeper for honey enthusiasts!
The hive honey set is informed by the complexities of bees and the natural geometry which they employ.
The jar has 5mm thick side walls and .25" thick base walls.
The container has a max capacity of 500 gm or around 16oz of honey.
The honey dipper is made from sustainably raised American Sugar Maple.
Set includes:
- Hive Jar - Frosted
- Capped Cell Lid
- Bee's Butt Dipper
______________________________________________
Ships immediately